Webinar: New FinTech Funding Alternatives for Life Science Companies
FinTECH can assist with raising capital, securing licensing partners, and liquidity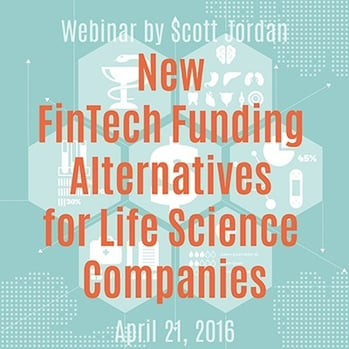 On April 21, more than 80 investment professionals and emerging growth company executives participated in SJA/ShareVault's webinar,
"New FinTECH Funding Alternatives for Life Science Companies."
Topics of discussion included answers to the following questions:
Can I leverage FinTECH Portals (~AngelList, Capbridge, HealthiosXchange, Healthfundr) to raise capital from retail and institutional investors?
How should I set my expectations regarding the amount of capital I can raise under the JOBS Act (Title's II, III, and IV)?
Can I simultaneously raise capital and list on an exchange (OTCQX, NASDAQ) via Reg A+ (Tier II) and do I need to hire an underwriter?
How did Elio Motors raise $17M via Reg A+ and "Go Public" on the OTCQX Exchange? How is Stock performing to date?
Get answers to these questions and much more. Download the slide presentation >